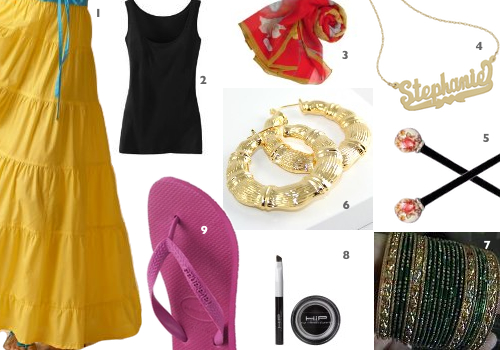 Every time I see my sister-in-law, Roza*, she tells me that I am "so pious for dressing modestly" even when I'm around my family. Funny, right? Well, she says this because I usually wear long skirts, pants or jeans at home and sometimes I wear scarves as well – and when I'm around mahram people other than my daughter and my husband, I usually throw on a cardigan or something over my tank tops. It's not really about trying to be "more religious", it's just about being comfortable.

Inside style refers to what a hijabi Muslimah wears when she's at home. I like to call my inside style Bohurban-Chic (bohemian+urban+chic) and here's why I wear what I wear:

[1] long skirts because they're comfy and cute;

[2] tank tops because I like the idea of wearing something fitted on top of flowy skirts – and of course tank tops are super-comfy;

[3] silk scarves because they keep my wet hair from getting frizzy as it air dries (they also allow me to look cute on bad hair days!);

[4] a gold name chain because I've wanted one ever since I was 10 years-old and inshaAllah I'll still be wearing it when I'm 80 (!);

[5] hair sticks because they provide a cute way to pin my hair up;

[6] big gold hoops because they're essentials and they look great when you wear your hair up;

[7] indian bangles because they're my favorite and I love the jingling noise that they make;

[8] black eyeliner because it makes me feel a little fancy – J. Lo Live Luxe perfume has the same effect;

[9] flip flops because I usually like to have something on my feet.

Ok, so what's your inside style? Do you dress the same way around everyone that you don't have to be completely covered around? Or do you have different levels of modesty depending on who you're with?

More Ways To Get Muslimette:
Subscribe to Muslimette Magazine.

Follow Muslimette on Twitter.

Sign up for FREE Muslimette Blog email updates.

MAHRAM: A person that a Muslim woman does not have to wear hijab in front of.